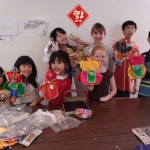 The number of schools that offer Chinese for children in International and Charter schools in Madrid is growing. These schools, which usually offer English as a second foreign language, are clearly investing in trilingualism.  An investment that will enable the students at these schools to have better career opportunities in the future.  Madrid kids are not alone. There are many children in the United Kingdom who learn Mandarin from nursery or at school.  In USA, according to the American Council of Foreign Languages, for example, there are more than 60,000 students in Chinese Mandarin immersion programmes.  We hope that very soon in Madrid state schools join this tendency, as education is every child's right.  The list here below is by no means complete so if you know of any other school that offers Chinese please keep us informed so that we can update the list
International School of Madrid: The curriculum at this school is in English, but it offers Chinese as an extra-curricular activity, as well as French and German.
Runnymede College: A school with a British curriculum which offers Chinese from "year 1"
King's College: Offer Chinese at their centres in La Moraleja and del Soto de Viñuelas
Liceo Europeo: This school is in the "Top three" ranking of "El Mundo", and has been offering Chinese to its students since 2008-2009
Colegio SEK (Santa Isabel): Chinese Mandarin classes from Primary as an extra-curricular subject
Colegio Base: Also featured in the rankings of "El Mundo", with second place in Madrid for private schools. Offers Chinese Mandarin from nursery
El Ramón y Cajal in Arturo Soria, this school doesn't only stand out because it offers Chinese to its students but also because it has cut the student / teacher ratio by half compared to other schools.
Nuestra Señora del Recuerdo: Chinese Academy within its extracurricular activities.
Colegio San Agustín: Chinese Mandarin extracurricular activity
Santa María del Pilar: Chinese Academy as an extracurricular activity
Colegio Menesiano: The Colegio Menesiano is a bilingual Charter school in Madrid: it offers Chinese Mandarin as an extracurricular activity to students aged 6 to 17 years old
Colegio El Prado: Investing strongly in trilingualism (Spanish, English and Chinese Mandarin).  Chinese is taught in primary and secondary classes.