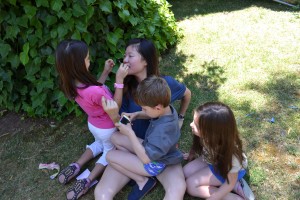 There is no doubt that we had a great summer in El-Palomar, we have never imaged that we could be so lucky and honored to be as two special Chinese teachers in El-Palomar Summer camp, it is a place where we got inspired by the spectacular and magnificent land views and its royal and noble temperament!
We have tried to do so many unfamiliar sports and activities, even for us, they are so special and fresh, e.g. Canoeing , Sailing , Horse riding ,Fishing ,Raft drifting , Bullfighting etc. we simply had a good time in this authentic giant summer camp!
We are also very glad to spend that unforgettable two weeks with our lovely kids, they made us feel so warm and easy to get along with during the whole duration.
Happy summer!!Come and join us!!
胡颖燕和周俊峰老师联手强力推荐El Palomar庄园英语和西语夏令营,
一次意义非凡的教学体验!毫无疑问,能够在El-Palomar庄园教授中文是我们一辈子的荣幸,2013年的暑假,我们很有幸成为第一个来到这个充满着皇室、贵族气息的巨大庄园的中文老师,在这里,我们体验了很多以前在中国都不常见的运动项目和生活方式,我们每天都会陪护孩子们尽情玩耍,我们一起划独木舟、玩快艇冲浪、游泳、一起骑马、观看精彩的斗牛表演,更令我惊讶的是,我们可以真实地体验斗牛的快感!孩子们甚至比我们更加勇敢!孩子们爱玩的天性可以在这里发挥的淋漓尽致!
我们想,El-Palomar如此与众不同的地方应该在于它的纯正的贵族血统,高挑俊俏的赛马,古老而淳朴的建筑,还有广阔无垠的大片自然,都能够让您的孩子体验到真正的欧式贵族风情,我们将继续用百分之百的努力来确保孩子们得到一个难忘的暑假回忆和更多在平常无法学到的团队意识、荣誉体验。
快乐暑假,赶快加入我们吧!
Junfeng Zhou